Massage Therapy in Richmond Hill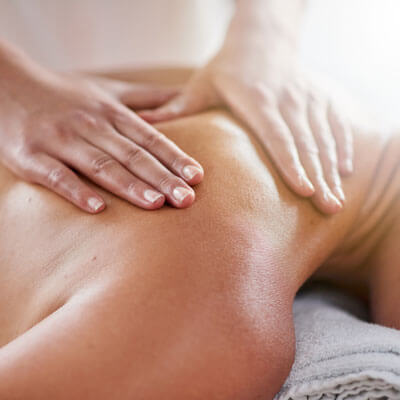 You may have heard about the power of human touch — including the power to help the body heal. One healing technique that hinges on the manual treatment of tissues is massage therapy.
Massage therapy can be seen as a holistic healing approach, by using different kinds of techniques to manipulate the soft tissues of the body. The purpose is to alleviate the pain and discomfort associated with daily stress, muscular overuse and injuries.
Different types of this therapy have special benefits for the treatment of different conditions, particularly in partnership with a chiropractic adjustment. Due to the muscles being more relaxed by having a massage, they are more receptive to spinal and extremity adjustments, which makes it easier for the body to accept the changes.
There are Many benefits of Massage Therapy:
Reducing pain and muscular tension
Improving blood circulation

Improving joint mobility

Improving posture

Reducing stress and anxiety

Improving sleep
Here at Spinalcare Chiropractic Clinic, we offer massage therapy alongside chiropractic care, which will work hand-in-hand to help your body heal. You're welcome to schedule a massage all by itself, or you can utilize a combination of our services to get the best result.
Meet Our Registered Massage Therapist
RMT Dorothy Chan studied at the Canadian College of Massage & Hydrotherapy in Toronto. Dorothy uses various integrative therapeutic techniques. These include Swedish, deep tissue, myofascial release cupping, trigger point therapy, Indie head, and stress reduction techniques to help alleviate clients' pain or discomfort.
Massage therapy has many variants that make it a powerful treatment tool for a wide range of health challenges. Our chiropractor, Dr. Chan, may recommend massage for issues such as :

Insomnia and stress reduction
Frozen shoulder
Chronic strains and sprains
Neck, shoulders and lower back pain issues
Tennis elbow or golfer's elbow
Pre and Postnatal massage
Fibromyalgia

It's no coincidence that many of the same conditions improved by massage therapy can also be treated with chiropractic care. In fact, chiropractic adjustment and massage make an especially powerful combination. That's because muscles relaxed by massage are more receptive to spinal and extremity adjustments, which makes it easier for the body to accept the changes.

At our clinic, you can choose to have chiropractic and massage therapy, which will work hand-in-glove to help your body heal.
What makes massage at your clinic different than anywhere else?

We focus on your clinical needs rather than an overall, general goal such as relaxation. When you're in pain or having chronic problems, you need a more therapeutic approach. That's exactly what we offer to you.
Do I have to see the chiropractor first?

No and yes! We encourage you to take advantage of having multiple practitioners under one roof. Since our therapist is well trained and licensed to practice in Ontario, they are professionally equipped to address your musculoskeletal needs. However, if you see Dr. Chan before a massage, he can gather medical data that will be passed onto our massage therapist. They'll have a roadmap to follow of exactly what needs to be done for a more effective and efficient massage.
Do I need to do anything special to prepare for my massage?

Dress comfortably when preparing for your appointment. You'll spend about 5-10 minutes being assessed and going over informed consent. Then, your massage will begin. At the end, your therapist can make any recommendations about how often to return for a session.
Hours
Wednesday 10am – 12:30pm & 3pm – 6:30pm
Friday 10am – 12:30pm & 3pm – 6:30pm
Fees
30 mins – $70
45 mins – $90
60 mins – $110
75 mins – $130
90 mins – $150
*HST is included in all the Fees
Important Information & Instructions
Please read the following before you book any massage treatment.
We ask that you arrive 10-15 minutes early on your first visit to fill out an intake form and treatment consent form.
For the safety of everyone, we highly recommend you wear a mask during your session. Please reschedule your appointment if you have any symptoms of COVID-19, have been in close contact with anyone who has COVID-19, or are feeling unwell.
After you book an appointment, that time is set aside for you. Missed appointments prevent us from accommodating other clients. Please understand that therapists only get paid when they deliver a service.
A fee of $50 will be charged for any missed or canceled appointment without 24 hours' notice. Future appointments will be denied until payment is made. If an emergency arises, please let us know so that we can treat your specific situation with personal attention.
If you arrive late, your session may be shortened to accommodate other clients whose appointments follow yours. Regardless of the length of the treatment actually given, you will be responsible for the full session you have booked.
If you have any questions, please contact us at (905) 707-8328.
Book Today
Experience the many benefits of massage. Contact us today to book a session!
CONTACT US

Massage Therapy in Richmond Hill ON | (905) 707-8328