Shoulder Pain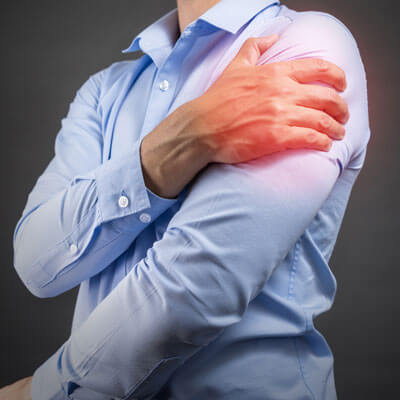 Shoulder pain is common in athletes, active individuals, and those who perform tasks that require repetitive motion. It can prevent you from performing simple functions such as combing your hair or lead to loss of mobility in severe cases. Our Richmond Hill chiropractor at Spinalcare Chiropractic Clinic provides non-invasive chiropractic adjustments and therapies designed to stop pain at the source, rehabilitate the shoulder, as well as restore stability, mobility, and normal function.
The Shoulder Structure
This remarkable structure consists of the upper arm bone which fits into the socket to form the shoulder joint. Nearby is the rotator cuff supported by muscles and tendons, the collarbone, and the shoulder blade. Strong ligaments help hold these joints and bones together, thus allowing you to bear weight and perform a wide range of movements.
What Causes This Kind of Pain?
Pain is generally owed to the high degree of joint flexibility. Common causes of pain include overuse, strains and sprains, inflammation, and shoulder instability or injuries due to a fall, accident, or playing impact sports. The shoulder is also susceptible to referred pain from musculoskeletal imbalances in the neck or upper back. Common conditions related to this part of the body include:
Arthritis
Tendonitis
Labral tears
Frozen shoulder
Rotator cuff tears
Typical Symptoms
The pain may be sudden, sharp searing or debilitating, or it may come on slowly, persist, or worsen with time. Stiffness, bruising, swelling, tenderness, numbness, tingling, reduced mobility, and intense pain when bearing weight may also occur.
How Our Chiropractor Will Treat Your Pain
Before setting up your shoulder pain treatment plan, you will undergo a thorough physical exam which may include X-rays of the shoulder and spine. Depending on the results, your chiropractic care plan may include a combination of these modalities:
Chiropractic Adjustments: A shoulder adjustment for fractures or dislocations can restore joint stability and functionality as well as mobilize the soft tissue to relieve inflammation and swelling.
Spinal Adjustment: The Activator Methods can be used to manipulate the vertebrae into normal alignment. This alleviates nerve or disc pain spreading to the shoulder.
Healing Therapies: Massages and acupuncture activate the body's natural pain-relief and healing powers. Massage therapy also relieves stiffness, reduces inflammation, and increases flexibility.
Rehabilitation: Rebuilding and strengthening the shoulder structures with sports injury therapy or corrective exercises is usually necessary, particularly after a severe injury.
Our wellness program also includes nutritional counseling and advice on changing habits that place you at risk of injury or pain.
Make a full recovery with pain-free chiropractic care
Spinalcare Chiropractic Clinic offers an opportunity to get rid of your pain with natural methods that could also prevent surgery. You are welcome to contact us to book an appointment.
CONTACT US

Shoulder Pain Treatment in Richmond Hill ON | (905) 707-8328