Personal Injury in Richmond Hill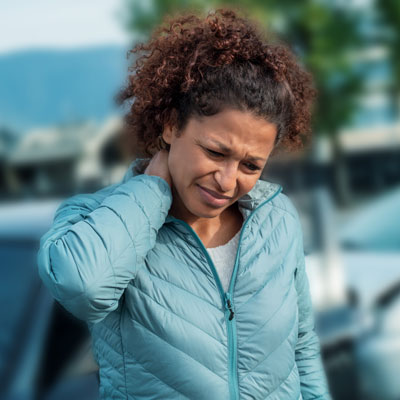 When you slip and fall or experience a traumatic injury, you could end up with chronic back, neck, and joint pain. At Spinalcare Chiropractic Clinic, our caring, experienced chiropractor can assess your condition and develop a treatment plan to alleviate your discomfort.
Chiropractic care stimulates the body's natural healing ability, which may help you avoid further damage and recover from your injury. We're here to help you each step of the way!
Common Ergonomic Injuries
One form of personal injury is ergonomic injuries. Ergonomic injuries result from overextension and overuse. The common types of this injury include
Carpal tunnel syndrome (injury due to overuse of the wrist)
Tendinitis (inflammation of the tendon)
Lower back injuries (from lifting heavy objects or overuse)
Epicondylitis (tennis elbow)
Chiropractic Care for Slip and Fall Accidents
When you slip and fall, you may not realize the damage that was caused until days or even weeks later. Whether you fall due to a wet floor, icy sidewalk or child's toy, numerous injuries can result.
What happens when you have a slip or fall?
Your muscles can become strained or sprained when you twist them during a fall. Chiropractic care alleviates the pain and soreness associated with sprained ankles and wrists. Furthermore, shoulder and back injuries due to a nasty fall can cause bruising and, in some cases, joint misalignments due to the tendency to break your fall with your arms.
Our chiropractor can make the necessary adjustments to ensure your back and shoulder continue to heal properly.
Get Attention Right Away
A spinal misalignment in the back or neck may not show up immediately after a slip and fall or another personal injury. It may be days before the real pain manifests. If you believe a recent injury may have affected your back or neck, you should see a chiropractor as soon as possible.
At Spinalcare Chiropractic Clinic, we commonly treat the following conditions:
Back pain
Neck pain
Shoulder pain
Whiplash
Strains and Sprains
Nerve-related numbness and tingling
Gentle spinal adjustments return your spine to proper alignment and help you heal faster. The same is true of your joints, including wrists, knees, ankles and elbows that can be harmed during an injury. We may refer you for X-rays to ensure that nothing is broken if clinically indicated.
After Dr. Chan examines the images and discusses your medical history, including the injury itself, a treatment plan will be developed. The treatment plan will be tailored to your particular injury and needs as found during your examination.
When you've had any form of trauma, inflammation will set in. Inflammation results from your body's attempt to heal itself. That's a good thing. However, the increased pressure also causes pain. Spinal manipulation can reduce the swelling and reduce nerve pressure that prevents blood flow and the circulation of nutrients to the injured area. Chiropractic care is less invasive than surgery and doesn't rely on medication to mask the pain.
For your first appointment, please take time to fill out the online forms that you can find on our website. Be sure to bring in a list of any medications or prescriptions that you take as well.
Call Now
Do you need to schedule an appointment? Contact us today! We have same-day appointments available if you'd like to get started right away.
CONTACT US

Personal Injury Chiropractor in Richmond Hill ON | (905) 707-8328